Last year, in an effort to "walk the walk", I reviewed the LEGO Robie House. I find myself teaching the LEGO FSEM again this fall, and figured: well, let's walk again.
This time, I picked a set I was super excited about, the CITY Fun in the Park set. It's a pretty small set, considering the price (only 157 pieces for $39.99, when lots of sets have twice the pieces for 2/3 the price.) Thing is, though, it's atypical in a major way. Unlike all other sets I've ever seen, this one really focuses on the minifigs, of which there are fifteen! The builds are secondary, and very minor: there's a small merry-go-round, a picnic table, a bench, and a hot dog cart.
The highlight here is not just the number of minifigs, but their features. There's a baby (more on this below) a few kids, various grownups, a mustachioed gentleman, seniors, and best of all: a man in a wheelchair. This is the first time a wheelchair has appeared in LEGO, and it's a big deal. Representation matters. LEGO has a very mixed record when it comes to this, particularly in terms of gender and race. The disabled haven't appeared at all in minifig form, which is ironic since LEGO are used by a number of disability-focused organizations. Anyway, the wheelchair is really nice, with rubber-edged wheels. I hope we will see disabled minifigs included in more sets in the future.


The rest of my critique really focuses more on why I was personally super pumped about this set. When I saw it was going to be released, it really felt like it was made *just for me*. Honestly, with just a few additions, it could have been.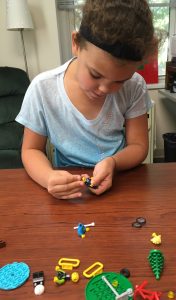 ONE: THE KID
I didn't build this set alone. My 7yo built it with me, or rather I watched while she assembled. She really enjoyed the build, and unlike other sets, didn't need me to help much. She particularly loved matching the minifig pieces. The build items were all small and she was able to figure out each one from the directions on her own. As for me, I appreciated that there are no stickers in this set.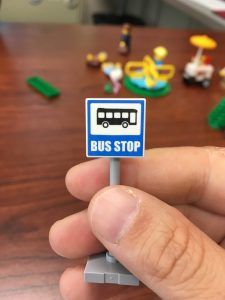 She had two favorite items in the set: the baby (more on that below) and the mustachioed gentleman. She's obsessed with cooking shows and loved this contestant from the Great Food Truck Race. The mustachoied guy immediately sparked her imagination.
While my kid really enjoyed the assembly, she also disliked some aspects of the set. In particular, she wasn't impressed with the park items (me neither) and truly hated the fact that there is no included baseplate (me too.) My kid loves soccer, but the single-piece soccer goal and white soccer ball left her completely indifferent. I can't blame her: there's no build value and really no point in playing with such a fiddly item. The most complicated piece, the merry-go-round, wasn't super interesting to her either. She abandoned it quickly. Surpisingly, she liked the picnic table and placing the family around it. Its scale was just right.
Long story short: she played with the set for a while, and stayed busy during a sweltering afternoon. Sadly she still prefers LEGO friends. Blerg.
TWO: THE PARK
Last spring I taught a senior lab about playgrounds. As part of their research, they designed a playground, and since there were a bunch of LEGO lying around, they modeled the playground in LEGO. This allowed them to work out proportion and develop the shapes and features in the playground.


I found out about the CITY Fun in the Park set halfway through the semester and could not wait to get my hands on it. Waiting until the summer was tough. I even briefly worried that LEGO would do such a good job with the set that it would overshadow my students' work. I need not have worried. While the set minifigs are really nice and numerous, the build items are lame. The best build in the set is actually the lawnmower, which isn't exactly a common sight in a playground (or park, even. Who uses a push mower in a park? A riding mower makes more sense.) The second best is the picnic table, but my students made good ones in their project, too. The merry go round is tiny and those are becoming all but extinct in parks due to safety concerns anyway. In other words: this set isn't a park or a playground, really. It's just a bunch of every day items and neat every day minifigs. Nothing wrong with that, of course, but you would be in for disappointment if you chose the set from its name.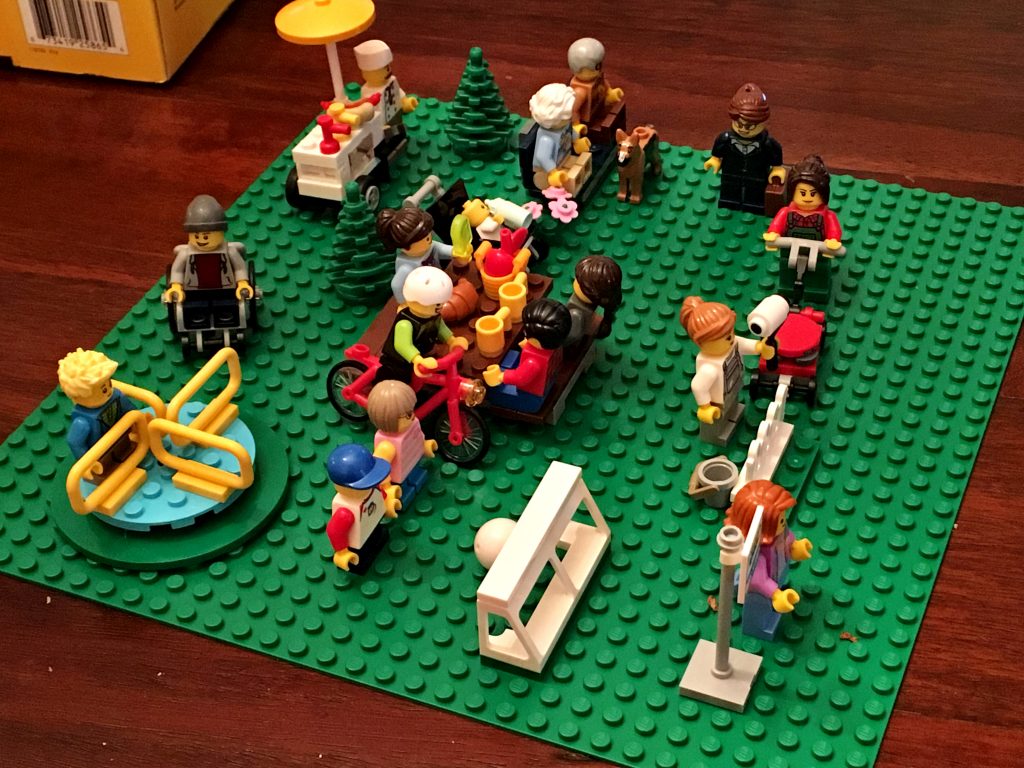 THREE: THE FAMILY (BABY!!!)
The true highlight of this set is the BABY. I'm pretty sure this is the first minifig baby, and it is ADORABLE, with tiny cute minifig hands and a tiny cute bald head. The baby comes with a stroller and bottle, too. My 7yo was completely in love with the baby, particularly as it finally allowed us to make minifig Smith family. The set's dad pretty much already looks like my husband, complete with beard and plaid shirt. The little girl in the set had the wrong hair, but I had light brown hair from another set. And though the mom in this set looks nothing like me, a minifig from the City Hall set is pretty good (purple scarf FTW!)
BOOM! LEGO Smith Family. There are plenty of sets I only look at once and then am done with. Not this one. This one, I'm gonna keep and keep playing with.


FINAL VERDICT
Is this set worth buying? Well, it depends.
Do you like LEGO primarily as a fan of Star Wars or Ninjago or superheroes? Then save your money.
Do you have lots of CITY sets and want more minifigs to complete streetscapes? Then yes, get this set, with the understanding that you will only use the minifigs, and that they will only be fun when combined with other sets.
Are you me? Then HECK YES you want this set. Because now you have the best family portrait EVAR.