I generally am a big believer in "walking the walk", so if I'm going to make students do something, I try to do something similar. Right now, I'm teaching a
LEGO freshman seminar
(as I'm reminded of daily whenever I navigate to the UMW site. It's kind of disturbing to see myself staring back at me like that). In that course, students are completing
all sorts of LEGO related projects
, among them a LEGO review. I've had a
LEGO Robie House
(set #21010) waiting for months to be assembled, and I figured this is a perfect time to put it together and write about it. So here we are.
The Robie House set came out in 2010, and I would argue it may be the reason the
Architecture series
has become so popular. It is a gorgeous model of a very distinctive house. Some of the other models in the Architecture series, in my opinion, are not a very good representation of the building they emulate. The Eiffel Tower is meh at best, and the Guggenheim is actively awful. LEGO simply can't show a spiral well at all. LEGO Architecture sets will always have to simplify buildings quite a bit, but that works better with some than with others. Modernist buildings like the Villa Savoye and the Farnsworth House are perfect for LEGO, and so is this house.
The
Robie House
is one of my favorite Frank Lloyd Wright houses: its brickwork, interlocking planes, and deeply overhanging roof are typical of his work. The stained glass in this building is fantastic. Most of all, the horizontality FLW achieved here is truly stunning. All the details add up to, well, the Prairie style. All in all, this house is definitely worthy of the LEGO Architecture treatment.
So, what about that set? Well, it's a beast. The box is heavy, and packed to the brim. Inside are what feel like a million 2×1 thin deep red bricks. Turns out it's only 771, but the supply feels endless. While the model very cleverly realizes the shapes in LEGO, I'll be honest: I never want to put this thing together again. This is by far the most tedious build I've ever done and my fingers may never forgive me. The model shows that distinctive horizontal brickwork beautifully, but that means course after course after course of mostly 2×1 and some 1×1 thin bricks. As for the stained glass: it's rendered with 1×1 thin clear bricks stacked together. Again, the finished product looks wonderful but the assembly is less than fun.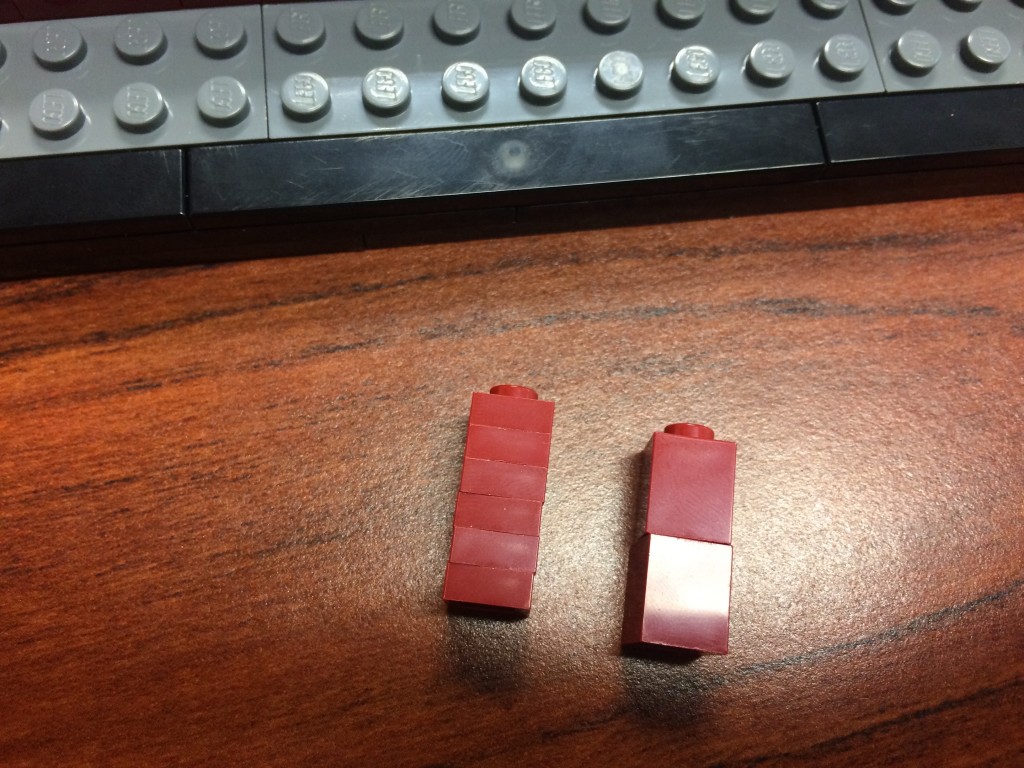 The instruction booklet, like the model, is gorgeous but not very practical. The booklet doesn't like sitting flat, and the very few colors in the set means that figuring out what's added in each diagram is less than obvious. That said, the book also has lovely illustrations and details about the house.
One of my usual favorite things with LEGO sets is the discovery of how features are rendered, how seemingly insurmountable challenges are cleverly solved. Usually, even with large models, I get to discover cool stuff at least every 10-20 minutes of building. But this set only has the two ship-prow-like windows that are interesting. The rest is just stacking bricks over and over and over…
My one interesting experience with this was at the very end, working on the last chimney. I needed three more 1×1 deep red thin bricks, except none were to be found. I'm pretty sure this is my screwup, because at the end I had one 1×1 regular brick left. As I noted earlier, the set has you stack lots of 1×1 thins throughout, but I must have stacked three more than needed when a 1×1 regular brick was required. I won't be trying to find it, though. Lucky for me I had three extra bricks available from other sets to finish the model.
So final verdict: I love having this model. It's beautiful. But no, I wouldn't say I had much fun putting it together. I do feel a sense of accomplishment, since this was so hard-won. But I am never taking this thing apart, and I'm not letting anyone touch it, lest it get damaged.