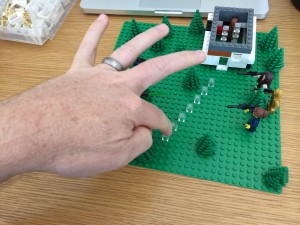 In the five months since the acquisition of the LEGO collection, rechristened the MBL (mobile build lab), I've been pretty busy with a number of projects. Still, I've started putting those LEGO to work, with multiple plans coming up this fall and into the future.
First, back in May, the MBL was put through its paces by some UMW faculty. I even put the "mobile" part to the test, moving the whole setup to the Link*. Profs from a bunch of disciplines were tasked to think of something to do with the LEGO, and given an hour to play. The results were really interesting. One prof made a diorama showing how internet packets work. One made a purposely "broken" creature to encourage student-teachers to think about disabilities. One made a maze to approach problem solving. One made chemical equation of sorts to physically – and humorously – explain reactions. I'll freely admit I was surprised by how creative and successful the ideas were. I can't read too much into it, since the group was small and self selected, but I'm still impressed. With an hour and some LEGO, faculty came up with ideas that looked classroom ready, and very likely to engage students. I'm hoping for a repeat at the next Faculty Game Camp.
Second, I got to work on a model of campus. I thought this would be an interesting project on numerous fronts.
First, this campus is beautiful, and showing some #UMWpride seems like time well-spent.
Second, I figured it would be an interesting challenge to create something so complex from scratch.
Third, and most importantly, I will integrate the model into one of my fall classes. Students in my urban design course learn to redesign urban spaces. Since the Southeastern end of campus has been brought up for such a redesign, it's a great local case study. Still, because of the topography, a 2D map would make it tough to visualize. So I made the LEGO model to show the topography along with the buildings.
Putting together this model took quite a few steps.
– got a map of campus, and blew it up to the correct proportion to make the LEGO model 1:1.
– surveyed the land to figure out basic topography. I was hoping google maps would work, but they didn't have enough topo detail. Luckily, the HISP summer student aide was game and walked around to find rough heights at 30 ft intervals. Since the bricks only allow for measuring in 5′ increments anyway, that was sufficient. (By the way, thanks, Diana!)
– laid out the base plates and started building.
Here is where the trial and error process took over. The topography had to be re-laid twice. I had to find solutions to represent all sorts of irregular shapes. Most difficult: while the MBL has lots of bricks, the supply isn't unlimited. I all but ran out of grey and green bricks by the time the model was finished. Overall, I think it took 40 hours or so to put this all together. Not that I'm complaining: I loved every minute of it. Ok, except when I had to take whole sections apart. That wasn't fun.
My hope is that in addition to drawings, urban design students will make LEGO models that fit onto the base model I made, allowing for a more complete assessment of any redesign. I have other LEGO design assignments planned as well. These will be more abstract and help ease them into a 3D design frame of mind. I'll have more to say about this come November. In the meantime, if you want to see the campus model, it's in the HISP conference room. Stop on by!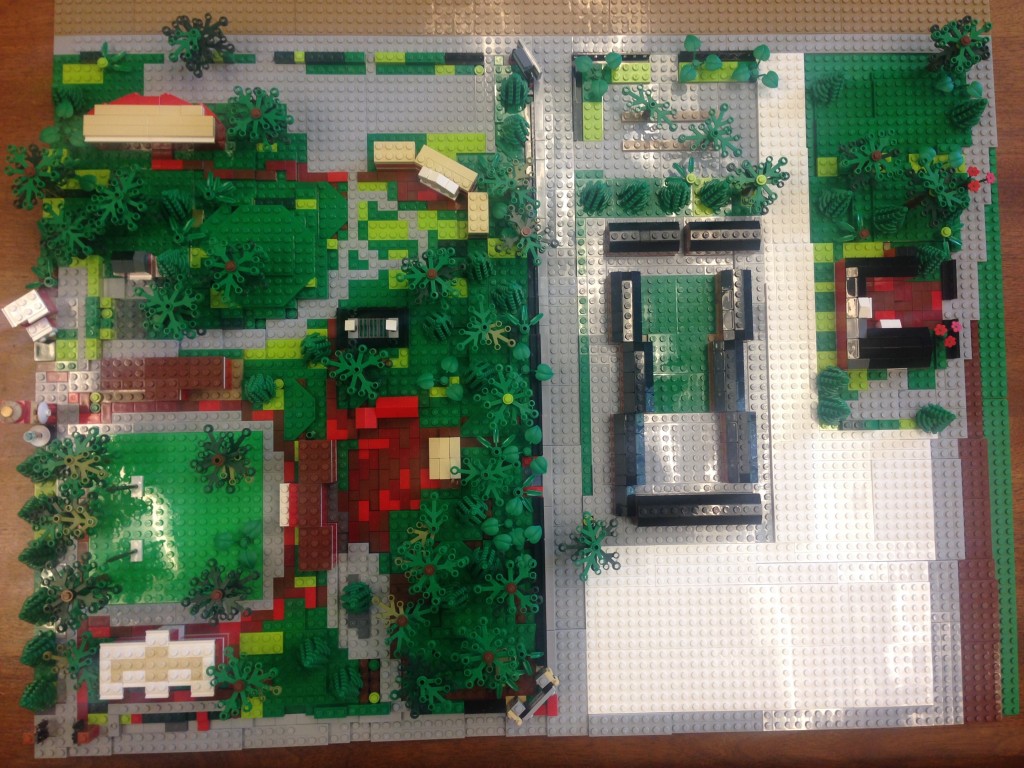 *I want to say more about the MBL, but there's lots to cover and I need material for later blog posts anyway. So stay tuned. I'll show you the full setup in all its glory soon. You'll be green with envy.
[slideshow_deploy id='4868′]