A friend of my sister's is traveling to Paris and wanted some pointers. Plus, HISPinParis is heading out in two weeks anyway. This seems like a good time to write up some Paris-specific travel advice. So in no particular order, here goes: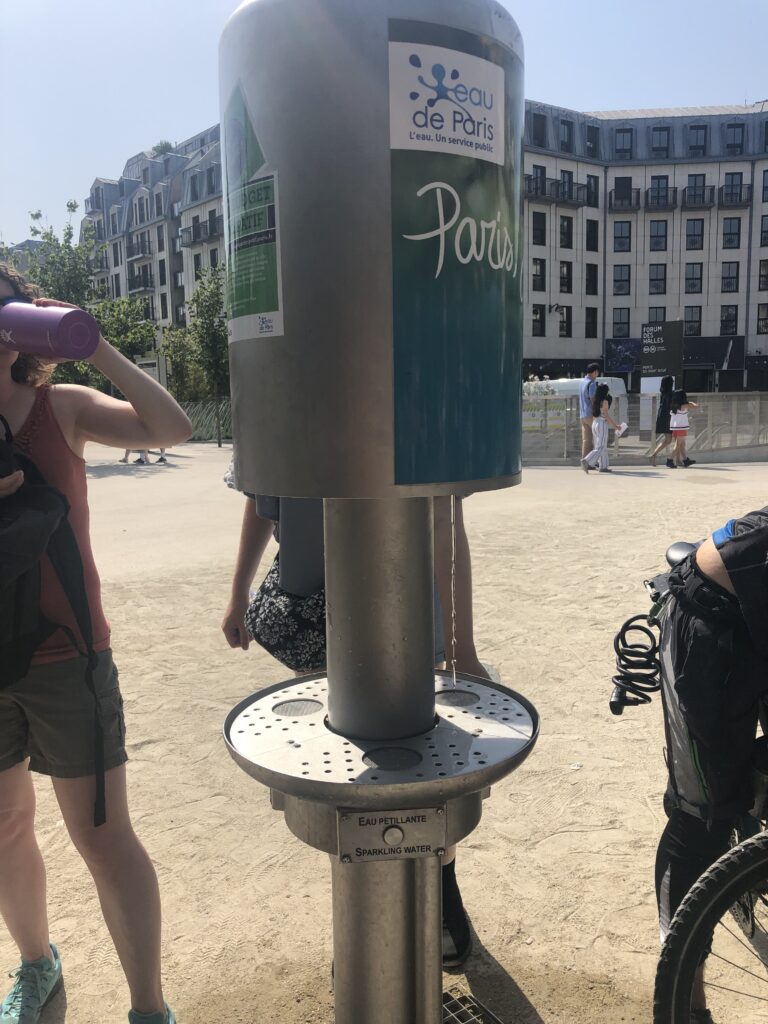 You don't need to get cash in advance. Almost all places in France take credit cards. Make sure you know your PIN, as that's required rather than a signature. Worst case, you can always get cash from an ATM.
Speaking of credit cards, know how to contact your bank in case of emergency. Contact them in advance to let them know you're traveling abroad. If they have an app, download it, and make sure you know how to disable the card and get a new one if need be.
Similarly, don't buy a plug converter. Those tend to be costly and/or junk. These days, everything is USB-based anyway. Just go to a supermarket once you're there and buy a USB wall charger. It'll be cheaper and easier. Do carry a backup battery, though.
Wear comfortable shoes. There are cobblestones and gravel/sand in parts of Paris, and you'll do lots of walking. Blisters are not fun.
There are pickpockets in Paris – it's a major city after all – so wearing a cross-body bag, fanny pack, and/or travel-safe bag is generally a good idea. Packhacker.com is a fantastic resource to get bag reviews. Or feel free to ask me for recs: I am a bag obsessive.
There's no A/C in France except in hospitals and movie theaters. Plan accordingly.
Advil and other meds are available but more expensive there. Just buy that stuff here and take it with you. It's not like it goes bad.
On the other hand, there is deodorant and soap for sale in France and that stuff is heavy, so buy on site.
Pharmacies in France are denoted by a green cross. No, those are not dispensaries. If the sign is lit (hah!), it means the pharmacy is open. By law, at least one per arrondissement has to be open at all times. Pharmacists in France tend to be super helpful and much more stuff is available OTC, so don't hesitate to ask questions.
Transit in Paris is FANTASTIC, though it does close overnight at about 1 am. It is by far the easiest and fastest way to get around. Use the Bonjour RATP app and get a metro pass. You'll be glad you did. But fair warning: when you get back stateside you'll cry.
Soda is expensive in France, and drinks are not served with ice. Drink espresso or wine instead. That said, there are free potable water fountains all over the city, including fountains with sparkling water, so bring your water bottle.
Waitstaff in France are paid a living wage. This means two things. First, you don't owe them a tip, and if you do tip them, a euro or two is fine. Second, they don't owe you smiles. By American standards, they may come off grumpy or just rude, but it's just that they don't have to pretend to love challenging customers just to get paid. Deal with it.
In terms of food:
Go to at least one crêperie. Find one with a good Yelp rating if you're nervous. They're everywhere in the city. Order some cidre brut while you're there. If the place is at all authentic, they'll serve the cider in a bowl. Be careful, though, that cider can pack a punch.
Try different baked goods in the plethora of bakeries around Paris. My faves: religieuse au café, Paris-Brest, tarte au citron. But basically just get what looks good to you.
At cafés, if you like sweets, get a "café gourmand". It will include an espresso and 4 or 5 tiny desserts you can sample.
Generally, Yelp is a good way to find places that other Americans like, so use that or some other online rating. Also, more touristy restaurants often have a menu in English available, which might help you avoid accidentally ordering offal.
You may see signs for Mexican food. Do not trust them. There are no good Mexican restaurants in France. This isn't racism, just geography: France is very very far from Mexico. Instead, go to a North-African restaurant and have some tajine.
On the other hand, there is a long (colonial, deeply problematic) history between France and Vietnam. That does mean there is excellent Vietnamese food to be found. Get nêms.
A couple places that I personally always make sure I eat at when I go to Paris: Berthillon (I particularly recommend their pear sorbet and wild strawberry sorbet) L'As du Fallafel (falafel, obviously. Note that they are closed on Saturdays.)
One last piece of advice: try to speak French. Just give it a shot. Many people speak English but it will make them much more likely to want to help you if you try. Take a week of Duolingo or memorize a few phrases before you go. Don't worry: Americans' reputations have actually improved in the last few years.
Bon voyage!