Leaving for France in two weeks exactly. You think after having taught this course three times already, it would all be routine by now. And mostly, it is. Still, lots and lots to get done.
Teaching a course abroad is an interesting experience. Some of it is just like teaching a regular class: syllabus prep, developing assignments, working out lectures… but there's a lot of extra items to keep track of as well. It's basically like juggling except in real life I can't juggle.
The one that is really not fun is the budget. In the year ahead of teaching a course abroad, I spend many many hours figuring out the budget. And then while I am abroad, I have to be very careful to keep track of my expenses every single day because otherwise it becomes unmanageable. Try to imagine: you have a budget in dollars but your expenses are mostly – but not entirely – in euro. Some vendors give you receipts but not all of them, some accept credit cards but not all of them, plus you have to deal with tips. So, yeah. This is not fun in any way but staying on top of it is a major component of teaching abroad.
Then of course there's the logistics. I pride myself in taking full advantage of our destinations. That means site visit after site visit after site visit… Of course, scheduling all of that isn't exactly easy. For instance, museums in France are generally closed on Tuesdays. The course is always the entire month of July, but the weekends change every year. So that means I have to be flexible in my scheduling while trying to stay as thematic as possible. Inevitably, not everything works out. For instance, last time, I inadvertently scheduled the sewer tour the day after Bastille day -> 🤢
So all this said, what am I doing in these last two weeks before I leave?
Finishing the course calendar. Some of the site visits – mainly those with an entrance fee – were organized a while ago. The rest is still being scheduled. To make that task easier, I've moved the entire thing to iCal. I've shared the iCal through Google calendar and embedded it in the course site. So this year, students can be sure they have up-to-date info either by checking the course site or just their calendar app of choice. Hooray for technology!
Prepping my expense spreadsheets. Luckily the format didn't have to be updated at all this year.
Updating the blog aggregator. I hadn't changed the format of the blog aggregator in years, and the interface was really busy. Now it's minimalistic, which is exactly what I want: readers can now focus on the students' work.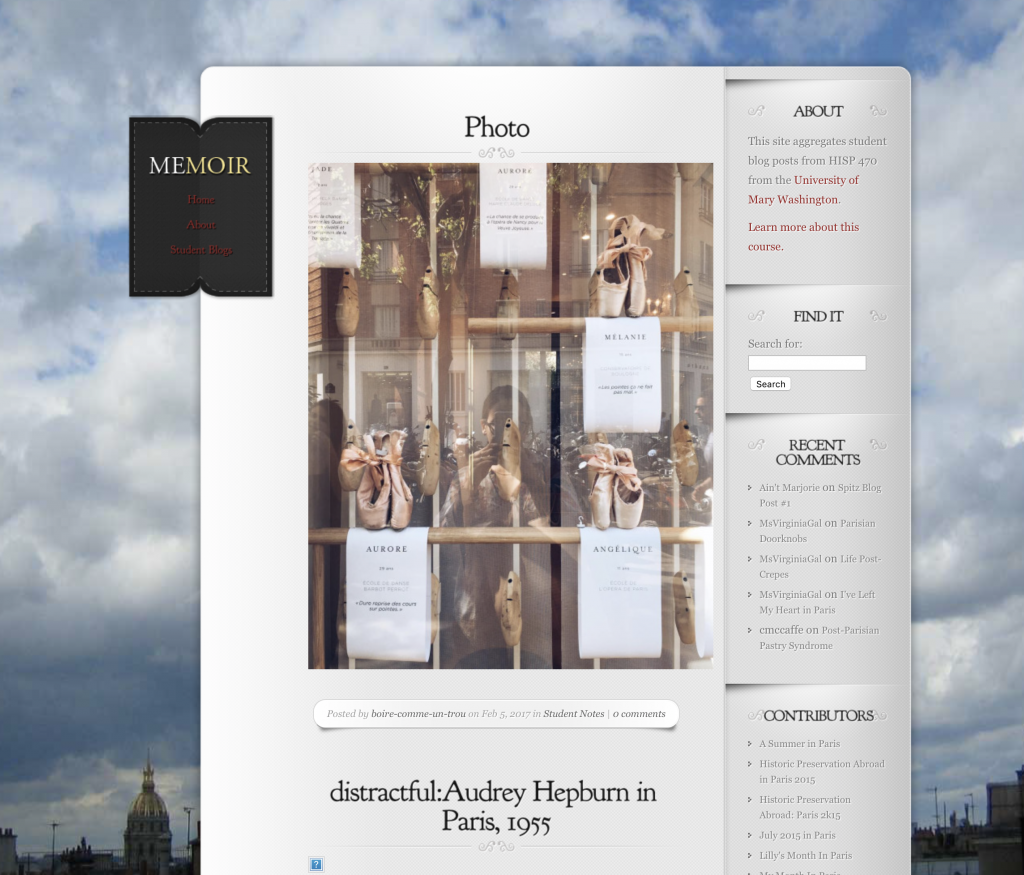 Prepping packing lists. This is a multi step process: it's the regular packing plus the packing for my kids plus the specifics for the course. Being both minimalist and prepared when traveling with 11 students and 2 kids is no joke. Some gadgets and specialized equipment really come in handy. For instance, an amazing folding stroller. I've also got a nifty wallet that keeps all my expenses organized. Other important gear include: sunscreen, band aids, and sturdy shoes. Maybe I'll highlight some of my gear in a future post.
Departure day minus 14 and counting….